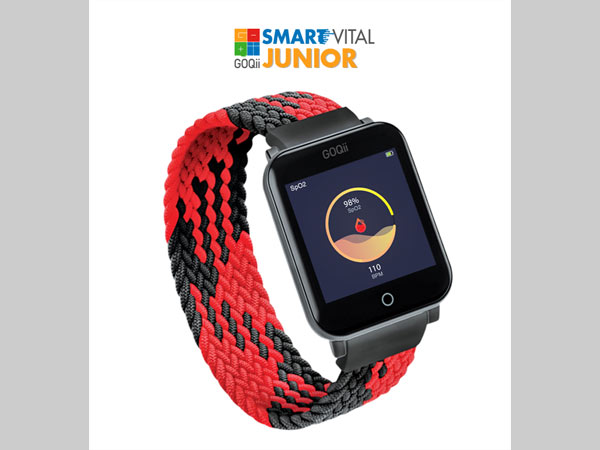 GOQii Smart Healthcare launches 'Smart Vital Junior'
GOQii Smart Healthcare has announced the launch of 'Smart Vital Junior.', a special fitness band for kids amidst a rising number of COVID-19 cases. Children who were unaffected during the first wave of the pandemic are now at a higher risk of getting exposed to the virus. GOQii 'Smart Vital Junior' will help as a supportive device for kids and will keep a real-time track of variation in blood oxygen levels, heart rate and temperature levels.
According to medical experts, the third wave of COVID-19 is likely to affect children as per research & data shared by official sources, hence Smart Vital Junior will aid as a precautionary measure for parents to #KeepAWatch on the health & wellbeing of their children and also imbibe healthy habits from a young age. Coronavirus patients are found to have lower oxygen rate, subsequently the band is critical in diagnosing and observing fundamental COVID-19 symptoms like temperature and SPO2 levels.
The ideal mix of temperature check and oxygen rate will help in prompt detection of expected cases. Parents will be able to monitor the health of their kids via the GOQii mobile app and also use it for consulting the GOQii coach for their kid's specific health goals/objectives, enrolling their Kids to specialised kid's workout sessions on GOQii Play, watching Healthy Kids diet shows on GOQii Play and consulting Paediatrician's Live on GOQii Play. Special Brain and Memory games to help with cognitive functions are also available on the GOQii App to make it even more fun and engaging for the kids.
Until recently, it was presumed that children were not significantly involved in the dangers of the virus. There were a couple of reported cases around the world, and in most cases the child was found asymptomatic. Nonetheless, the second wave of Covid has changed the manner in which the infection could affect kids. As the virus goes through changes to its genetic code, so does its capacity to outperform antibodies and the immune system. The spike in proteins, which the infection uses to join itself to the body and duplicate, could likewise turn out to be more aggressive and hence, cause more contamination.
Vishal Gondal, Founder and CEO, GOQii Smart Healthcare said, "The pandemic has been really challenging mainly for children as their way of life has been altered in more ways than one. In addition, the third wave is being predicted to severely affect kids, hence we took a step forward to launch a service specially designed to keep the vitals of kids in check. It will help with prompt diagnosis resulting in timely treatment while also monitoring other health related aspects like kids' health goals, online paediatrician consultations and kids' workout sessions. With a view to provide holistic benefits for kids' health and wellness, we are also happy to announce our partnership with Sri Sri Tattva where kids' immunity boosting products along with nutrition options for the whole family will be made available on GOQii Store"
Commenting on the collaboration, Mr Arvind Varchaswi, Managing Director, Sri Sri Tattva said – "We are very happy to partner with GOQii for this wonderful initiative. This comes at the right time when scientists suggest that there can be another wave affecting the younger age group. Since thousands across the world have benefited from the clinically tested Sri Sri Tattva Immunity Kit, our team of doctors have now put together an Immunity Kit specially for children. These include products whose efficacy has been proven through research and studies, will now be available on the GOQii store, for the benefit of its customers."
The available products include the Morning Family nutrition pack, immunity building kits and immunity booster drops that cater to the entire family's needs especially during a time when immunity boosting is the best way to prevent yourselves from the coronavirus infection.
GOQii Smart Vital Junior is designed specially for kids with a colourful display and straps that are made with materials gentle to the skin and to well fit their wrists. Smart Vital Junior will be available for order from the GOQii App and is also available on online platforms like Amazon and Flipkart. It is recommended that it be used for screening purposes only. All data collected by GOQii is subjected to HIPAA, GDPR and relevant data privacy guidelines.
GOQii Smart Vital Junior. is priced in India at a MRP of INR 4999/– and Includes the below features
o   Continuous body temperature monitoring
o   Continuous HR (heart rate) monitoring
o   Blood Oxygen (SPo2) level measurement
o   Sleep Tracking
o   18 exercise modes
o   and much more