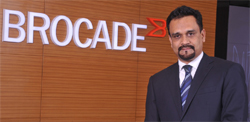 Mr.Srikanth Natarajan, Director, Channels and Alliances, India & SAARC, Brocade
Q. How is the market responding in Tier II and Tier III cities and what is your marketing strategy?
Many datacenters are mushrooming in smaller cities which invariably will lead to increased IT infrastructure needs. Several government initiatives such as financial inclusion, digital India, Smart City, Make in India and the expansion of BPOs-KPOs have also created a big IT opportunity in the smaller cities. As a result, this has generated a significant need for vendors to work with channel partners who have presence in these cities to meet sales and business expansion targets. We have a handful of partners in tier II and tier III cities which are bringing business for us. Brocade is very aggressively working with these partners to develop specific business plans and target specific customers. Brocade has seen that channel partners in tier II cities are very efficient in providing solutions to customers in remote areas and hence it is very important to have a strong presence in such markets as well.
Q. How many Channel Partners does Brocade have in Tier II and Tier III cities and how do you want to empower them?
Brocade partners in India fall under the bracket of about top 150 players across the country (100 – 500 cr. business). They are entrepreneurs and they have built companies in the late 90's and work with customers in the banking, defence, enterprise and government sectors predominantly. Brocade is currently working with 30-40 partners. Interest for Brocade has already set-in in the market place and partners are also bringing in business for Brocade. We work with partners in Mumbai, Chennai, Pune, Hyderabad, Chandigarh, Bangalore, New Delhi and Colombo in Sri Lanka. We are also looking at potential partners in Kolkata, Dhaka and Bangladesh.
Brocade is committed to helping our partners grow their businesses, leveraging our innovative, highly differentiated technologies. We work closely and collaboratively with our partners to develop their solution expertise, sales skills, and profitability. The Brocade Partner Network (BPN) supports our partners by making a shared investment in developing knowledge-rich practices that address evolving technology trends and changing customer needs. The BPN offers a complete set of enablement programs and resources that help our partners grow their businesses and improve their bottom line. The program includes four levels of partnership: Distributor, Elite, Premier, and Select. Each of these levels features specific requirements and benefits that help our partners achieve their goals by increasing their networking, services, and market expertise. Brocade is investing in providing the building blocks for cloud offerings so that partners can deliver networking solutions covering both cloud and on-premise solutions. We also give good incentives for selling the Brocade brand.
"Our focus is on equipping partners to deliver an exceptional experience for their customers, with existing networks as well as by capturing opportunities presented by the transition to the New IP."
Q. What is Brocade's Channel Partner Strategy (PanIndia) for the year 2016?
Our focus is on equipping partners to deliver an exceptional experience for their customers, with existing networks as well as by capturing opportunities presented by the transition to the New IP.We're executing on this strategy with differentiated technologies and solutions, and helping partners redefine how customers use the network within the data center and at the edge. And we're enabling our partners with new services skills from design through implementation, post-sales support and professional services. This is more than just deeper Brocade skills. It also includes interoperability with other vendors' equipment allowing Brocade partners to optimize the customer's experience at every touch point. The market is also swinging towards SDN and Brocade is leading the charge and is interested in working with partners who have skills of selling software as well.
Q. How important are Channel Partners for Brocade's growth?
Brocade focusses on helping customers transform their networks to reduce costs, improve performance and deliver greater business impact, paving the way to the New IP. We strongly leverage our channel community to go to market and hence channel partners are key for Brocade to realize its goals. Brocade hand picks its partners and keeps them very close. So this gives the partner community confidence that Brocade is different from other OEMs. It will be quality over quantity and our key focus is that partners should understand Brocade's technology well.
Q. What is your future plans and expansion in India?
Brocade wants to hand pick partners across markets. It will be quality over quantity because a Brocade sale is not an easy one, brocade deployment is a complex one. We want partners who understand technology and who have the Datacenter DNA in them.Software networking is happening. Carriers, service providers and others are already investing heavily in software. We would like suitable partners across regions to take advantage of Brocade's industry-leading solutions, training, and other programs to ensure they are competent in physical, virtual and hybrid solutions and don't get left behind.